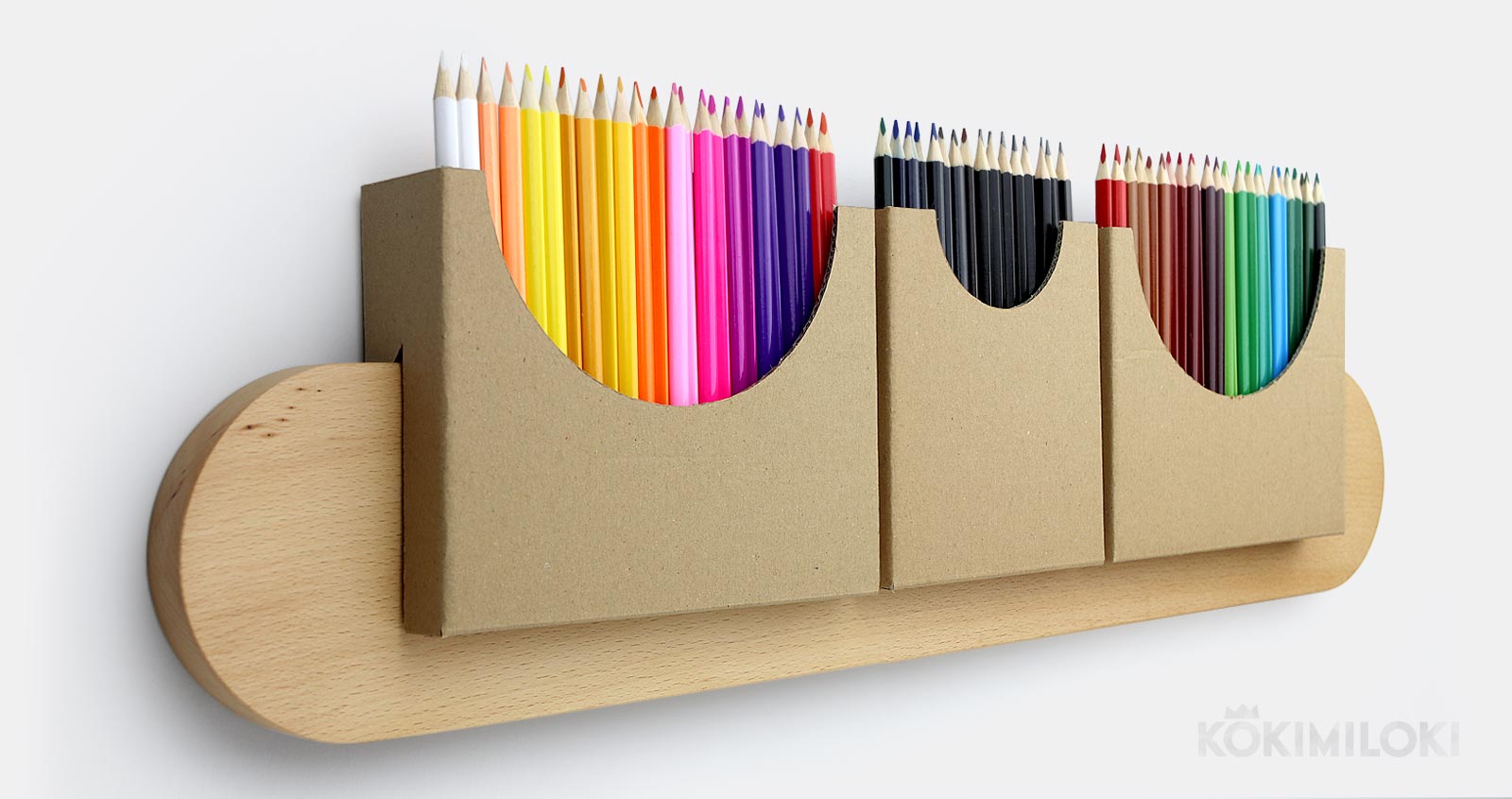 Desks are really a necessity. They are used to keep all kinds of things and every home definitely has at least one. But is your beloved stuff taking away way too much space than you can afford to give them?
Here is a brilliant space saving idea for your new working haven – imagine a comfortable chair, decent student desk, and this cute hanging organiser – DIY pencil holder that lets you keep all the pencils within reach. The perfect display space for colourful tools and proper help to make your projects 100% more genius. And you'll have room for your treats. Oh, you'll fall in love with where you work!
Wall mounted pencil holder
Please, notice that this project and the templates are designed for corrugated cardboard which is 4 mm thick. You also need a glue stick, craft knife, and metal ruler. Click on the icons below to download the two-part template. Print all parts on the unprinted side of used office paper.
2-part template – wide box
you need a piece of cardboard 55 cm x 25 cm
2-part template – narrow box
you need a piece of cardboard 45 cm x 25 cm
Mount the shape of the pencil box on your cardboard as shown in the picture below. If you are recycling the cardboard, try to use the fold lines you already have and align them to the dashed lines on your mounted shape.
With the help of the ruler, cut all the black lines. Be accurate. Don't let your eyes be misled – no polygon has the same width or hight here. Place the ruler on the drawing when possible, so that if your blade slips, it will cut into the waste card around the outside of the drawing. Fold all the dashed lines. Before folding, make a crease – a scalpel or craft knife is an excellent tool for this.

Now, the way this pencil holder works is quite simple. And yet, quite extremely radical as well – You need two screws in the wall, a wooden bar fixed with those screws, your cardboard boxes on this bar and finally pencils in the boxes. Just in case you haven't yet, we suggest you buy a wall bar. Oh, and of course, feel free to share your Instastyle using #kokimiloki.